The name of Mary Elizabeth Morris appears in the school Log Book of the now Ysgol Rhys Prichard in its very first year at its present location. At the time there were two separate schools in the building and Miss Morris was appointed as the first permanent Headmistress of the Llandovery Infants School and started on January 4th 1911 when the school re-opened after the Christmas holiday. Mary Elizabeth Morris, born in 1888, was not a native of Llandovery but, following the death of her father, lived with her mother at Rhos y Bedw, 54 Stone Street for many years. She later moved to a new house, Minybont, Towy Avenue where she lived until her death in 1941.
Miss Morris took her duties very seriously and was thorough and dedicated both in the pastoral care and in the academic progress of her pupils. She was always keen and enthusiastic about new developments in methods of teaching and changes in the curriculum and in educational matters generally. She became a committed member of the National Union of Teachers and this must have been quite a support to her. According to the Log Book Miss Morris was rarely absent from school but it is recorded that she took some days leave of absence in the early 20`s to visit London schools in order to keep up with educational ideas. The entries in the Log Book for her years as Head teacher include several detailed Schemes of Work which shows how conscientious she was in the implementation of the syllabus of the time.
Mary Elizabeth Morris was Headmistress at some extremely difficult times nationally, namely the First World War, the Depression, the General Strike of 1926 and the onset of the Second World War in 1939. There must have been many instances where the school provided the only stable environment for the young children at these stressful times. She is remembered fondly by past pupils of the 1930`s as a very caring, kind teacher whose priority was always the well-being of her charges. Under her guidance young children were given a sound background for learning and for their future schooling. Miss Morris was widely respected in the community and a faithful member of Tabernacle Methodist Chapel. She supported local societies such as the WI for whom she produced a Welsh play every year.
Her first long absence from school was from March 8th 1940 to May 5th 1940 when she underwent daily treatment at Swansea. This was obviously a serious illness and her untimely death on January12th 1941 at the early age of 52 saddened everyone.
The Charity
Miss Morris` love of children and her wish to be of practical assistance is reflected in her wishes at the time of her death. Under the terms of her will she bequeathed Minybont to two close friends, Elizabeth and Alice Davies of Portland House, Llandovery during their lifetimes. After their deaths, Minybont was to be sold and the proceeds invested in a Trust in favour of children who had attended Llandovery Infants School.
The original Draft of 1976, shows that the property was now a Trust property, after the death of Alice Davies in 1974 almost 20 years after Elizabeth Davies. New Trustees were appointed to implement Mary Elizabeth Morris` wishes. They were Mr. D.B. Howells, Head teacher of Llandovery Junior School, Miss S.E.G. Evans, Head teacher of Llandovery Infants School and Mr. Henry Thomas the Director of Education for Dyfed at the time. Minybont was sold in 1981 and the proceeds invested.
The original bequest was as follows:
1. An annual Christmas tree and tea for the pupils of Llandovery Infants School,
2. A Morris Educational Scholarship for a girl pupil from Llandovery Council School.
Over the years various Trustees have changed and adapted the conditions of the will as the two separate schools amalgamated and were under one Head teacher and there were other factors to consider as well. Now, the Charity gives financial assistance to male as well as female pupils and also to any pupil who has attended Ysgol Pantycelyn. A range of other bursaries and grants are available and the Charity endeavours to help as many young people as possible. The Mary Elizabeth Morris Charity has also, over the years at the discretion of the Trustees, given valuable additional gifts to Ysgol Rhys Prichard.
Computers, video recorders and library books have been purchased – all most welcome when school budgets have been tight, and such gifts make the difference to what a school can afford and buy. Every year the availability of financial assistance from the Charity is advertised both in the press and through the school. The Trustees meet twice a year to consider the applications received. The Trustees also ensure that every Christmas time money is given to Ysgol Rhys Prichard to provide a Christmas tree and a party for all the pupils. When Mr. J R Davies was Head teacher, prior to Mr. Noel Jones, he arranged for a picture portrait of Miss Morris to be hung in the school hall as a reminder of her generosity to the children of Llandovery.
So, as the School celebrates its centenary the name of Mary Elizabeth Morris is still very important in the lives of the pupils.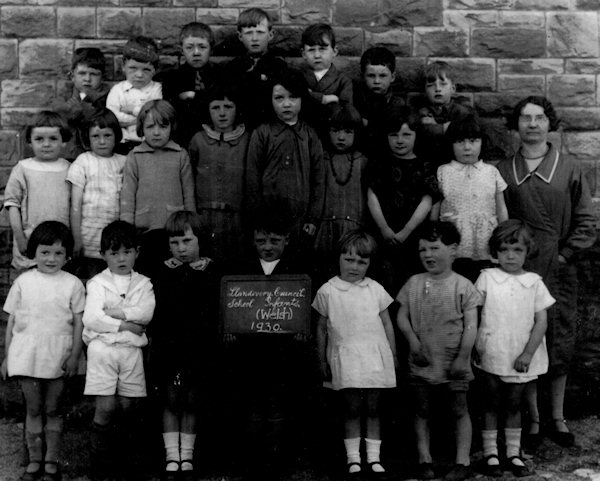 Evan Hughes( Cefntelych), Geraint Jones (China shop next to Crown Stores), Ben Jones, ? , Gwyn Southgate, Hywel Morgan (College) Reggie Davies (Castle St), Miss Morris (Headmistress).
Glenys Morgan (College View), Eira Thomas (College View), ? , Marian Davies (Penybont Cynghordy Rd), Rachel-, E Davies (Penybont), Ceinwen Jones(Blacksmith Cryd-yr-Awel) Glenys (Arthur)Thomas.
Beryl Thomas (College View), Alan Lloyd (New Rd), Megan Thomas (Dyfri House), ? , Olive Thomas (Tynan) (Dyfri House, Dai Evans (Stone St.) , Margaret Jones (China shop).